HOW TO SUBMIT YOUR MUSIC
We receive all sorts of music every week - which is awesome! To help deal with this significant task please follow a few simple guidelines.
Send us a message via the CONTACT PAGE.
With a Soundcloud download link, or Bandcamp download link with promocode for press, or the best option is to attach an mp3 file to your email. Three songs would be great amount. Your best three if you have it.
Additionally a small bio, elevator pitch, EPK (Electronic Press Kit) will help us describe your music. If you have any additional questions let us know.
Pretty much anything guitar-based, easy listening, EDM, synthwave, etc. Not so into: Screamo-Metal, Gangsta-Rap, or Typical Raggae (unless it is unique) and the 'clearly-a-demo' submissions - sorry bro. Maybe pick a different station if you into that. Otherwise, our playlists our carefully selected for quality. 
2022 podcast slots are all booked out
In meantime we can still plug your music by following. Send any releases now and in future via mp3 download. Notify us on our contact form (we don't list our email address here as there is plenty of spam coming in).
If you are in Auckland alert me of your gig, I may even make the effort to interview you at your gig! 
Also send us a 15second radio jingle that we insert in between playlist. 'Hi this is X and you are tuned into Kiwi Radio dot nz.' If you want to record voice memo directly via your mobile phone, try the submit audio form we have on this page (scroll further down to find it).
Or to get priority podcast feature (at any time of your choosing) become a sponsor for a month for $50NZD.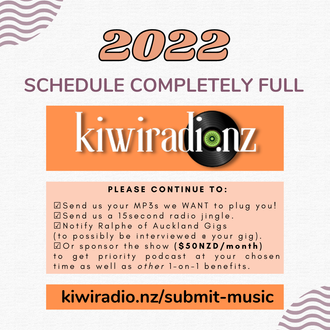 TERMS OF SUBMISSION (WHEN YOU SUBMIT YOUR MUSIC)
As a non-profit, here at KiwIradio.nz we currently operate on a barter and exchange program with you our music providers – that includes artists, PR companies, managers, and small indie record labels. Without your music, our station would be silent. For that, you have our gracious thanks for your music. 
To be clear: submitting your music to Kiwiradio.nz includes granting us broadcasting and podcasting rights of your submitted song(s) for free, waiving present and future rights to collection of both broadcast and mechanical royalties. Basically this means you're giving us the music for free, and understand that there is no promise of payment from us. However, we strive to repay you in other ways including promotion, airplay, backlinks and more. 
In it for the music, we even set aside a small budget each month to proactively purchase music we love on Bandcamp.
We aim to provide our listeners with the best possible independent music radio shows, promote your music, band and brand, and will endevor to help compensate you by adding/mentioning links to your websites, purchasing links, and donation links (these will be expanded in the future.) 
If you are interested in hosting your own kiwi music show, there is a buy-in of $50/month to keep our radio servers alive. Then we can talk via contact page.
Don't worry - we can provide remote tech support and all the radio training, you just provide us with your expertise and taste in local New Zealand made music.
HOW TO SUBMIT VOICE OVER AND FAQ QUESTIONS
1) Hi this is x and you are listening to Kiwi Radio dot nz
2) My first song is called x and the song is about.... (repeat for second and 3rd song)
3) Thanks for listening to Kiwi Radio dot nz. My name is x and check out my music on (websites).
"

Do we have to go on a LIVE STREAM for the show? Or can the show/podcast be pre-recorded?"
Ideally yes. The art of story telling is more fun when the artist is in the hot seat. However some of our international guests have strange and different time zones. Please note Ralphe is operating as a one man band with the station, and is only assigned an hour a week (Tuesdays 7-8pm NZT) as 'me time' from otherwise heavy and demanding dad duties. If you do want to pre-record your segment, use your own recording gear to do a voice-over saying, 'hi this is X, and this is our song called X which is about X - and you are listening on Kiwiradio dot nz'. We can splice it together to make it fancy. Got no recording equipment? Use our submit form right here to record voice over straight from your phone! Remember we like to hear what your song(s) are about. So get talking.
"

I hear feedback whilst being a guest on live stream."
That means the stream is hearing audio signal twice, causing a feedback loop. Please try muting one sound source. For example, mute your computer. And only use headphones plugged into your phone. If we are interviewing you as an overseas guest, have your preferred communication app installed on your phone.
The app we use for overseas guests is Skype and seems to be less technical one (especially for multi-guests). But if you have a custom app request for us to communicate in simply notify and use contact page.
"

The Youtube stream audio quality is really bad."
Ah yes, the dreaded Youtube compression! But the saving grace is that the podcast is recorded direct to a mixer for higher fidelity and quality. Check out our official front page for replays, or any of our radio players (on the front page), the sound should be better there. Think of Youtube as our 'live chat platform' and just a reminder that we are streaming live.